Whether you're an avid rider looking to keep your horse at home or have aspirations of running your own boarding facility, choosing the right horse property requires careful consideration.
Buying a horse property isn't quite the same as buying a home.
If you are buying a property specifically to provide your horse, and others, with pristine living conditions, you'll need to look at the property as a whole.
At System Equine, we understand the importance and challenge of navigating the real estate market as a horse owner, especially if this is your first horse property.
We want to make it as easy as possible. In this guide, you'll discover everything you need to know when it comes to buying a horse property. From fencing and barns to footing and drainage, we're covering it all.
Read on to discover the top seven factors that make up a great horse property!
Why Choosing the Right Horse Property Is So Important
When searching for a horse property, it's important to keep in mind that you're not just looking for a home – you're looking for a safe and welcoming environment for your beloved animals.
Your property should provide the perfect balance of safe and comfortable living spaces, as well as ample natural stimulation.
After all, being able to exercise in wide open, peaceful spaces is essential for maintaining the physical and mental health of your horses.
It's vital that you devote enough time and energy into finding the ideal horse property, regardless of your intended use.
For instance, if you're planning to start a boarding business, your property should meet some specific standards to provide the utmost safety and comfort for horses under your care.
While finding the right horse property can seem overwhelming, it's important to take your time in assessing any potential property prior to buying.
Furthermore, you may want to consider bringing a horse advocate with you to offer professional guidance based on their expertise. This could be a holistic veterinarian or an experienced equestrian property consultant.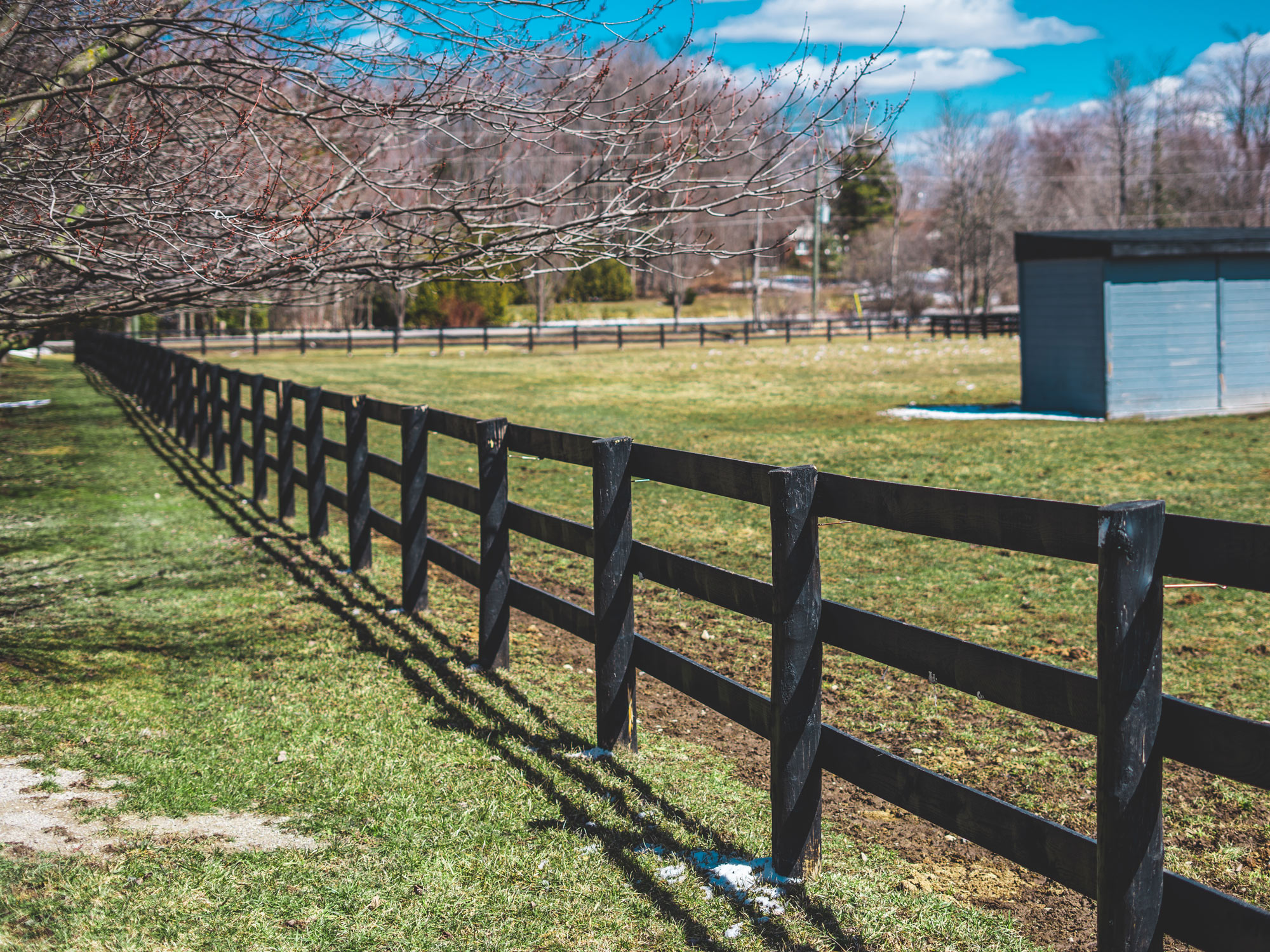 7 Factors to Consider When Buying a Horse Property
Buying a horse property, whether it's your first one, or you're a seasoned owner, can be a daunting experience.
Luckily, with the right know-how, and the assistance of a well-versed realtor in this area, the process can be easier than you might first believe.
Let's explore some of the top factors to consider as you work to find the perfect property to invest in.
1. Location
The location of your horse farm plays an important role in various aspects, and the location you choose can be influenced by a variety of factors.
Here are some main factors to consider when choosing where you'd like your horse property to be.
Local Amenities
Make sure to consider important amenities such as local feed and tack stores, veterinary clinics, and farrier services.
The convenience of having these services close by can be valuable in times of emergency and ensure your routine horse care needs can be easily met.
Accessibility
Accessibility is a vital component to consider when considering the location of any potential horse property.
If you're looking for something more secluded, you may want to look for something on a less travelled road, farther outside any main city center.
On the other hand, if you want your horse property to be easily accessible to the public without being in the city, you'll want to consider a property that's on the outskirts but still nearby main roads.
Another factor you'll want to consider is how easily you and your horses can access the various areas across the property.
Will it be easy to turn out the horses, or will you need to navigate obstacles?
Consider the location of the stables to the paddocks, and verify they are easily accessible from one another.
2. The Size of The Property
Another crucial factor to consider is the size of the property, and there's one element that significantly influences the amount of space you'll need; how you plan to use it.
Whether it's to start your own boarding business or simply to transform it into a thriving hobby farm, your property will need to support those goals.
3. Existing Fencing
Fencing is a critical aspect when it comes to creating a secure and safe environment for your horses.
The fencing on your horse property isn't a decision that should be taken lightly.
However, by considering some essential factors when making your choice, you'll undoubtedly create a more secure, safe and visually appealing environment.
Here are some aspects to consider when inspecting the fencing on any potential property.
Fencing Materials
Wood fencing is a popular choice, but it can be high-maintenance and susceptible to damage from wear and tear caused by horses.
You'll want to look at the quality of the wood and assess whether it would need to be replaced.
Other popular fencing options include vinyl, PVC, or electric fencing.
Fencing Technique
Regardless of the type of fencing you choose, it needs to be installed properly to maintain the safety of your horses.
For example, if the fencing has electric wire, you'll want to ensure it is only at the top of the fence.
This ensures it deters your horses from rubbing against the fencing while remaining high enough to ensure they can't get tangled in it.
4. The Barn and Stables
When buying a horse property, it is important to consider the type of barn and stalls that will meet the needs of both you and your horse.
Here are some factors to keep in mind.
Size and Number of Stalls
What you're looking for will depend on how many horses you plan to have on the property.
Standard stalls are 12×12 feet, but larger or smaller stalls may be necessary for certain breeds or activities like foaling.
Consider the layout of the barn to ensure you have enough space for aisles and storage.
Ample Ventilation and Lighting
Good ventilation is essential to prevent respiratory issues and control odours. This also helps regulate temperature and humidity levels.
Lighting is also important and plays an important role in your horse's health and behaviour because they rely on natural light patterns to regulate their circadian rhythm.
If the barn is lacking adequate ventilation or lighting, you'll need to consider the costs of installing proper vents, fans, and windows to ensure your horses can thrive while indoors.
Amenities for Horse Care and Management
A quality horse barn should have amenities to make daily care of your horses easier, like a wash stall, grooming area, tack room, and storage room for any grain or hay.
Additionally, you'll want to ensure the layout of the barn minimizes dust and manure accumulation.
Not only does this help keep your barn clean, but it supports the overall health of your horse.
Remember, a functional and safe barn is necessary for ensuring the proper care and management of your horses.
Make sure you ask your realtor for properties with appropriate structures designed for horses, and thoroughly inspect the barn to ensure that features are in good condition.
5. The Soil Quality and Drainage Capabilities
When it comes to horse properties, soil and drainage are important factors to consider.
Factors such as soil type and geographic location can impact how water drains, affecting your horses' living conditions.
It is crucial to assess both the topography of the land and its drainage patterns to ensure that your horses have a home that is both safe and healthy.
The soil quality will determine whether the pastures are suitable for grazing, so an analysis of the soil is an important factor to include in your evaluation.
You'll want to ensure there are no red flags first in terms of its quality, such as chemical components or the types of minerals within it.
Additionally, if you plan on baling your own hay on your property, you'll want to ensure the soil makeup is suitable for that as well.
Some other factors to consider are the lay of the land, such as hills and slopes, as well as any existing natural hazards, such as potholes or minimal shaded areas.
6. Water Sources
One of the most crucial aspects of a horse property is ensuring that there are proper water sources readily available for your horses.
Horses need clean, fresh water to drink, and providing it in ample supply can prevent health problems such as colic and dehydration.
Consider where your water source is located on your property. Not only is it important for your horses to easily access their water, but you'll also want to ensure it's easy for you to access as well.
You'll also want to verify the quality of the water, especially if it's coming from a well. This involves testing the water to determine if it's safe to be consumed.
7. Budgeting and Overall Costs
Lastly, the importance of focusing on your budget and financing cannot be overstated as you go through the process of buying a horse property.
Setting a realistic budget and determining how much financing you can afford is important. This helps provide you with a clear idea of what you can reasonably afford while narrowing down potential property options.
Taking the time to analyze your particular needs when looking for a horse property is the best way to find the right space for you and your horses.
Make sure to work with an experienced agent and consider factors like lot size, cost, financing, and location.
By doing so, you'll ensure that your new home is just the right fit for both yourself and your beloved horses.
Additionally, you'll need to consider costs that go beyond simply the purchase price of the property, such as maintenance, updating, and running costs.
Shop Horse Property Essentials in Rockton
Are you in need of some new items for your horse property?
Whether you've recently purchased and have some updating to do, or simply want to enhance your existing property, System Equine is your one-stop shop for all your horse needs.
We can help you find the perfect fencing for your property, meet your tack needs, and even transform your stables into a high-end space your horses (and their owners), will love.
Contact us today to explore your options. Our team of experts would be happy to help you create your dream horse property!