About System Equine
System Equine has proudly become a North American leader in equestrian products. From backyard stables and large private and boarding stables, to commercial fairground operations and more. We are incredibly proud to call Canada our home. Our team at System Equine has focused on building our core products here and now offer worldwide shipping options. When it comes to equine products and solutions, we offer everything from in-house manufacturing, in-store retail shopping, wholesale solutions, product installation, premium fencing solutions, top-quality horse exercisers, and so much more!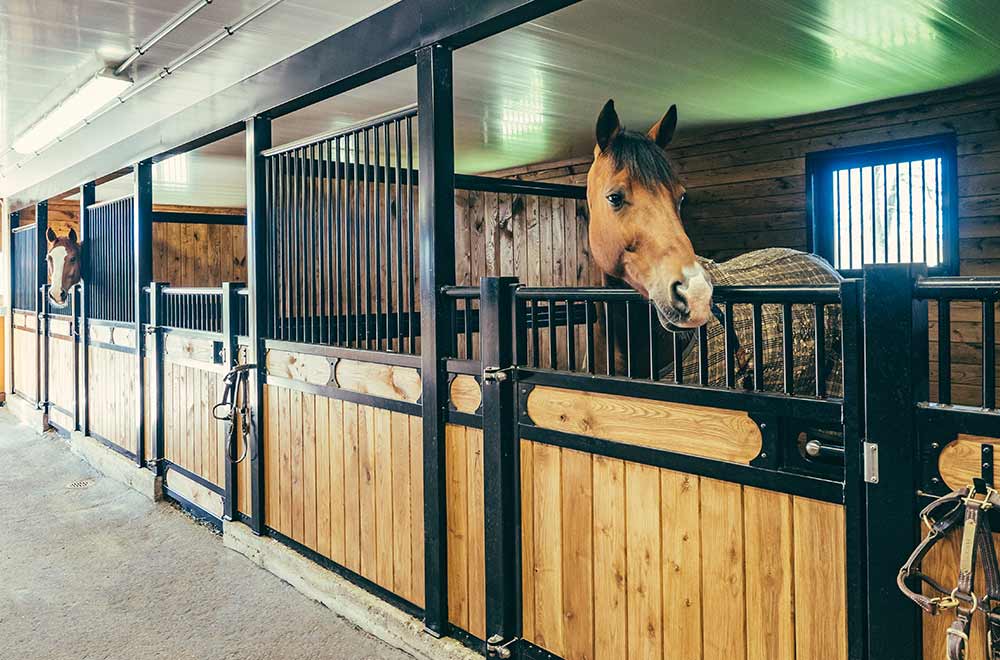 The North American Leader in Equestrian Products
At System Equine, we continue to source and develop new and innovative products. We offer a wide range of equine equipment, horse stalls, fencing and installation solutions, while our tack store provides the latest in horse health care products, equine and equestrian clothing, farrier supplies, and engraving. We also understand the importance of regular exercise for your horse, which is why we also specialize in industry-leading horse exercisers.
Our vision is to be a "one-stop shop" for all your equine needs and barn solutions. If there's something you need for your equine partner, we are here to help with the latest products, quality solutions and trusted advice.
We are located in the heart of Ontario's equestrian community in the small town of Rockwood. Our 33,000 square-foot facility includes the following:
All departments are equipped with state-of-the-art systems for optimal operation. Our showroom showcases some of our top selling stall systems which allows you to visualize your barn and touch and examine our products yourself before purchase.
Custom protocols and methods are routinely developed in collaboration with our customers. Our equipment platforms feature highly efficient technology that begin with a customer's idea, which is communicated to their sales rep, who then works with our production director to create a drawing which is then fabricated by our manufacturing team, ultimately turning the customer's dream into reality.
Our Mission & Core Values
With assistance from our dedicated team members, we strive to provide the highest quality customer experience – all while producing innovative products and being a leader in the equine industry.
Since 1987, we have developed and stayed true to our core values:
We do it all
We are unique in the horse industry as we cover all aspects of it. Drawing on our staff's vast combined equine knowledge we have developed capabilities to do anything within the equine market. From our complete installation crews and high end line of fencing supplies, to our complete manufacturing shop and full-service tack store complete with farrier supply and blanket cleaning, we are well-positioned to help you with a wide variety of products and equipment. Try us out! Ask some questions; you'll find that if we don't know something we will do everything to find out the answer and always get back to you. Raving fan customer service is what we pride ourselves on.
Installations
Installations have always been the backbone of System Equine's business. Whether you require installation for new fencing, stalls, Dutch doors, or a run-in shed, you can trust our licensed and insured installation crews to get the job done right. We recognize that purchasing products for your farm is a significant investment, and aim to take away all of your worries associated with such large purchases. Whatever your goals are for your horses and farm, we are there to help you choose and install the best products to reach them. You don't have to sacrifice quality to get the job done at a reasonable price. We use the finest quality materials and still remain competitive, with many combinations of fencing available. No matter the size of the job, our honest and dependable crews are equipped to handle it.
Designs
We provide excellence from design to completion. Not seeing exactly what you're looking for? Maybe you already have your own design in mind, or see characteristics from a number of our stalls that you'd like to combine. Share your ideas with us and we can work together to create your dream stall front. Who knows, we might even name the new design after your farm! Many of our current designs were inspired by collaborations between our sales reps and clients. We are always excited to create something new and unique! Oftentimes we start with a simple sketch then produce a drawing based on that sketch and work with you to come up with a design that is unique to you and your situation.
Manufacturing
The System-made advantage is access to some of the best horse stall designers and builders in the world. We are located right in Rockwood, Ontario, a small agricultural town with access to high quality, hardworking people that want to build you and your horses the best and safest equine equipment possible.
When building a stall system we can start with one of our existing styles, or from our client's ideas and inspirations for a completely unique design. We usually run with a four to 16 week lead time on projects, so be sure to start the process early enough to meet any deadlines you may have for your facility's construction or renovation. When you choose System Equine you get the full System experience, which includes honesty, integrity, and superior design and construction.
Tack Store
We are a passionate and diverse group of horsemen and women, so there is sure to be someone who can answer your questions and help you find the perfect supplement, apparel, or piece of equipment. We are big enough to have what you need, but small enough to provide individualised customer service and work with our customers to ensure that what we carry and how we operate is best suited to you, our customers. We want this to be your store. We want to work with our customers to make sure that our product assortment is what YOU need and want. We work hard to make sure that you have the best shopping experience with us by offering:
"We take every possible step to build value into the products we produce, from inventive safe latches, to hidden welds and unique designs. We are always looking for the best materials, products, and most advanced ways of building."
Kevin Job, VP of Production
Explore Our Products
We are proud to carry a wide selection of equine products and solutions for you to shop from. Whether you're looking for a new horse toy, riding boots, or your barn and farm could use an upgrade, we are here to assist. Our team can walk you through the solutions available to you, both online and in-store at our Rockwood, Ontario retail location.
Browse our product categories online to get started or contact us for more information!
The Brands We Carry
We believe that the brands we carry are a direct reflection of us. The quality, dependability and innovation behind each of the brands we work with showcases the positive impact we wish to make on our customers, from the health of their equine partner to the safety of their barn and farm.
Community Support
Established in 1987, System Equine has always helped to support the equine community in a number of ways. For example we have provided stall rentals, supplies, prizes, and sponsorships to local equestrian companies. Throughout the years our our business has grown, and with that growth has come an increase in requests for support. We've received so many that we've had no choice but to turn some of them down, always a difficult decision to make. We knew we had to find a way to say "yes" to everyone, and that's how our Stable Rewards program came to be.
Our System Tack Stable Rewards program allows participating stables to receive store credit equal to 5% of total purchases on tack store products made during that year. The store credit can then be used towards purchasing product for year-end awards, horse show prizes, client gifts, or general horse and stable supplies. This has been a great way for System Equine to keep giving back to the community.
Through hard work, great staff, and wonderful clients, we have been fortunate to be in business for over 30 years and like to share some of that success with our local community with donations to the food bank and by sponsoring families at Christmas time.
Designs
Inspired by Customers